Prevention & Regrowth Gallery
Choose Your Prevention & Regrowth Solution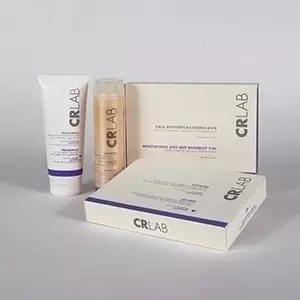 CRLAB Trichological Treatments
There are a number of different factors that can contribute to male and female hair loss, ranging from alopecia to medical side effects. Often, if you start noticing your hair thin, one of the underlying factors is an unhealthy scalp. You need your scalp to be clean and healthy to provide your follicles with a productive environment. If your scalp is unhealthy, it can contribute to hair loss.
If you're in the early stages of hair loss, then you may be a good candidate for trichological care. At Bravadas, we offer scalp care and trichology treatment from CRLAB, a true expert in the field.
When we talk about trichology, exactly what are we talking about? Trichology can be defined as the branch of dermatology that's concerned with the scalp and follicles. CRLAB products are based on clinical research that highlights the best, most scientifically sound methods for maintaining a healthy scalp and productive follicles.
CRLAB provides a robust assortment of clinically backed products that can help you achieve healthier scalp conditions, with the ultimate goal of revitalizing your follicles. The scalp treatments included in the CRLAB lineup include shampoos, conditioners, supplements, and more. Our experts can help you choose the products that are right for you, providing you with a fully customized trichological regimen. Ultimately, this is one of the safest and simplest ways to curb hair loss before it starts.
If you're interested in CRLAB trichology and scalp treatments, the first step is joining us for a consultation. In a private room, one of our experts will examine your scalp and advise you on the best course of action. If you're a good candidate for trichology treatment and scalp care, then we can show you some specific options from the CRLAB line.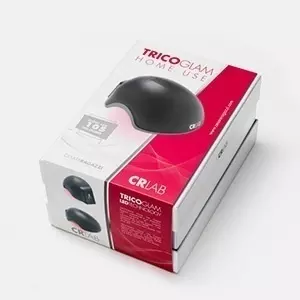 Laser hair therapy has come a long way. Currently, it represents one of the safest and most effective ways to stimulate your follicles and restore healthy growth. We provide laser hair regrowth to men and women at Bravadas.
How does laser hair restoration work, exactly? This FDA-approved method involves low-level laser emissions, which are safe and painless but intensive enough to stimulate blood flow to the follicles. This can effectively "wake up" dormant follicles, boosting your chances for healthy hair growth.
Clients tend to love laser hair therapy for hair loss because it can offer notable results. It can be especially effective when paired with other treatment options, including trichology and scalp care. Here at Bravadas, we offer both an in-store and at-home option for top-of-the-line laser hair therapy services.
Tricoglam Professional is an in-store laser hair restoration service that uses LED technology to increase blood flow and microcirculation of the scalp. The helmet's function is managed through a control unit box that is connected to it through a spiral cable. This technologically advanced laser hair therapy service is a highly effective option for hair regrowth that we proudly offer at select Bravadas locations.
Additionally, we offer a Tricoglam at-home laser hair therapy service that is both comfortable and convenient. We provide laser helmets and combs that you can take home with you, making it easy to get laser treatments while you relax, read, watch TV, or simply scroll through your phone.
Laser hair regrowth has been proven to be effective, but it won't yield results overnight. Multiple treatments are needed before you'll notice real results. When you join us for an initial consultation, we can tell you more about your custom treatment recommendations.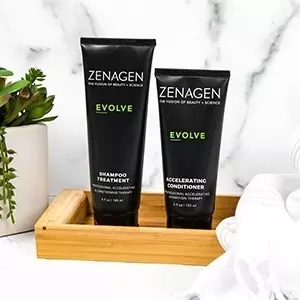 Bravadas is excited to announce our new partnership with one of the up-and-coming players in the hair growth industry, Zenagen. Their plant-based nutraceutical ingredients create products that drive safe, fast, and natural hair growth. We know our clients trust us to carry high-quality products and that is why we can't wait for our hair restoration clients to try this line. They have a science-backed delivery system which uses cold-pressed ingredients to clean the hair follicles of DHT thoroughly. This allows clients to see fuller, thicker hair growth. Their shampoo treatments and conditioners are salon quality and work quickly.
Zenagen can be found in some of the most prestigious salons across the country. The award-winning professional hair care brand has formulas that are the result of years of nutraceutical research and product development. The plant-based, natural ingredients have been scientifically proven to address the root causes of hair loss and correct it.
Another way Bravadas and Zenagen are aligned is that we both are inclusive of all hair types and textures. No matter what your background or ethnicity you can rest assured that we have your best interest at heart when you come to us with your hair loss concerns. Set up your free consultation today and ask your stylist how Zenagen can help you with your hair loss!
Explore the Options for Hair Loss Prevention & Regrowth
Seeing the early signs of hair loss can be discouraging. Thankfully, there are steps you can take to prevent further hair loss, and even to stimulate regrowth. We provide a number of options, including trichology care and laser hair regrowth.
Are you a good candidate for hair loss prevention and regrowth? Find out by scheduling an appointment for a consultation.